Additional Reviews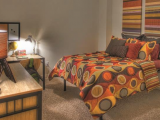 Aug 2019:
This is a fantastic apartment with amazingly helpful staff. Huge shoutout to Lauren, Annie, and Josh for helping me and going above and beyond!! Review from Google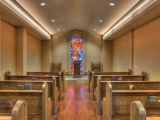 Aug 2019:
Janah from the front office was super patient and helpful. Also Sanctuary really worked with my roommate and I to get us in an apartment we were pleased with!! Review from Google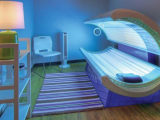 Aug 2019:
Great

location and Lauren from the front office has been super helpful throughout my time living here! Review from Google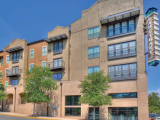 Jul 2019:
WiFi

never

works here,

not

even in the study room at times. There's a

good

chance the door to get into the building won't work either so you will have to go around the building and look for a working door (Residents have started to just

leave

a rock between these doors so a key is pointless at that point). Front office people (Taylor, Jonathan) are very

nice

and helpful but there are a few other workers who could extremely

unhelpful

and

unfriendly

. Sanctuary has been doing

new

floors also, did

not

give us a proper heads up. Maintenance

left

water

bottles everywhere and

left

all of our possessions all cramped and so

dusty

. They tried to

leave

my roommates laptop on the bottom and put heavy possessions on top of it and dented her LV bag.... My neighbor has also mentioned how a maintenance worker was laying on her couch on top of her sheets and pillows and such when she got home as she was caught off guard with the

new

floor

construction

as

well

Review from Google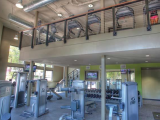 Jul 2019:
We paid our daughters rent online and they processed the payment twice! Now trying to get the extra payment back is proving extremely

difficult

. Our daughter says things like this have happened before as

well

. Apartment staff is

nice

but the finance company is

not

great

. Review from Google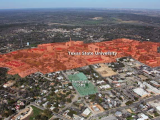 Jul 2019:
Place is wayyyy to

expensive

for the size of the rooms. They maintaince people and front desk people are

nice

, but

never

get anything done. EX: day I moved in we had no side chair, do me and my roommates each called 5 times throughout both semesters, and said they would take

care

of it. Moved out last sunday and still no side chair. Another example was my toilet was

leaking

and We had maintenance come up. The lady said she knew where it was coming from but

didn't

tighten any screws so I had to do it myself. Moral of the story is,

avoid

sanctuary. There are places just as

close

for a cheaper price (vistas). Even if you move farther from campus, theres always bus loops. Also they are very

cheap

and try to take your money in every way possible. Review from Google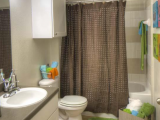 Jul 2019:
This apartment complex is one of the

worst

places to live in San Marcos.

Not

only is the property

poorly

kept, but it is also extremely

expensive

. The exterior of the apartment complex and the garage are always

filthy

. You

cannot

walk ten feet from your car without encountering canine fecal matter or an overfilled dumpster, and despite numerous

complaints

from tenants management has still

not

taken action to

clean

up the property. Also, while on the subject of the garage, my car was

broken

into while in the garage and my parking pass was

stolen

. Then my car was

towed

from the lot that I was paying to use. When I went to the front desk to resolve the issue they

blamed

me and said that I must have

left

my car

unlocked

. They told me that there was no way to prove that I had a parking pass even though they where

CHARGING

ME monthly for one. I had to pay 250 dollars to get my car from the towing company Review from Google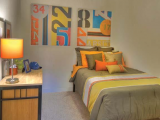 May 2019:
The front office staff is

amazing

!! They are always so helpful! Especially this girl named Lauren, she's so sweet and always does everything so can to make me feel at home! She definitely makes Sanctuary a

great

place to live! Review from Google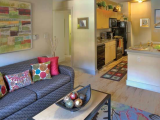 Mar 2019:
I've really

enjoyed

my time at Sanctuary Lofts! Campus is a short walk

away

, the people in the leasing office are always kind and want to talk to you, and the gym is massive. Definitely worth stopping by! Review from Google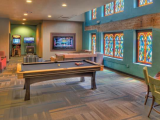 Mar 2019:
Simply

amazing

property. One of the

best

places in San Marcos for sure. Management is

great

and the price is just right for what you pay! Review from Google
Mar 2019:
Great

place to live if you are looking for somewhere

affordable

and

convenient

. Staff is super

friendly

and

wouldn't

want to live anywhere else! Review from Google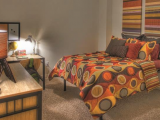 Mar 2019:
I lived here last year and I miss living here! The gym is so

nice

, the parking garage is

big

so I

never

had

issues

finding parking. I loved the location it is so

close

to campus and the square!! The complex has so much character and I

enjoyed

my apartment a lot. The main reason that I moved is because it is

not

a

good

place to live with a dog. If they somehow added more grass or a pet area I would move back!!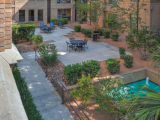 Feb 2019:
I

love

living here. Taylor (CA) signed me back in July and could

not

have been more helpful and kind. I am a business student so all of my classes are in McCoy, and it takes me 4 minutes to get there. Sure they're a little

pricey

, but you're paying for an

amazing

location,

safe

place to park, and

great

amenities. Manager Josh is always working hard to solve

issues

and

help

his CAs with any

problems

, which I admire. Everyone in the office is

friendly

, and the property itself is

beautiful

. Review from Google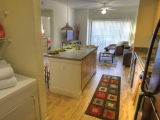 Dec 2018:
Horrible

,

scam

of a place to live!!! We were shown a model apartment of what our daughter would be renting, it was very

nice

and we were satisfied to sign the lease. When she was given her keys to move in, we were shocked at what we saw. The apartment looked

NOTHING

like the model we were shown. It was

old

,

dirty

and

not

updated at all. The furniture was

gross

, the bathroom was

dingy

and there were

ants

everywhere. My daughter had numerous

problems

with plumbing and

poor

management. Finally, when it was time to move out, my daughter and I thoroughly cleaned her room and bathroom. We

left

it much cleaner than it was when she moved in. We

left

nothing

in either room. The

final

bill arrived. I knew we would have to pay the

final

utilities, no

problem

. However, also on the

final

bill were two erroneous

charges

. One for a

broken

bed slat, which I k Review from Google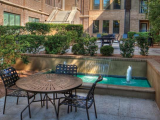 Dec 2018:
I had a sublease from May 2018-August 2018. They weren't responsible to

clean

it before move-in, but damn. There was

rotting

meat inside the fridge that could be smelt from the hallway,

impossible

to

not

gag. The entire apartment also smelt like cat feces b/c my roommate allowed the cat to go wherever it pleased. Then I get

charged

b/c my roommate

left

6 bags of

trash

behind and they

can't

reason with me and drop the

fee

. The place was nearly inhospitable and no

care

was shown toward my specific situation. Also, it's inside a

creepy

church with long,

horror

-movie hallways, the MOST uncomfortable mattress EVER. So

happy

I remembered to say that. You can feel each individual spring. The property is way over priced. I wish I could give y'all a

zero

star review, thanks! Review from Google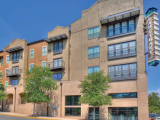 Nov 2018:
The service/people here are

great

, a

nice

walk to txst which is

wonderful

. However, as everyone has been saying in the reviews, WiFi here does suck and it takes a while for maintence to come through. Probably because so many people that live here file work orders concerning the

water

heater/washing machine/

leaks

. It's an on going issue. Review from Google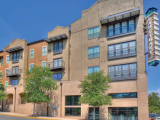 Oct 2018:
Don't live here. they will

tow

ur car,

not

have WiFi, or hot

water

.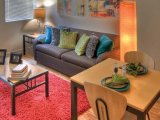 Oct 2018:
DONT LIVE HERE! You will

regret

living here immediately! They have

horrible

WiFi, there is almost

never

hot

water

, the a/c doesn't work most the time and they

tow

people's cars so much. This place is just the absolute

worst

. Choose a different place to live trust me! Review from Google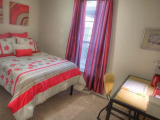 Oct 2018:
Pros

: maintenance is very

quick

to fix

problems

and proximity to school

Cons

: utilities will drag you

down

. This month i paid 87 dollars ON TOP OF RENT (635) AND 25 of parking. Mind you, I'm

not

even here on most weekends and I'm gone most of the day for school. How does that add up? Doesn't sound logical. WiFi IS ALWAYS OUT. It's

not

very reliable so if you have online stuff to do you're

stuck

like chuck. The rooms are super small. Also the rates for rent ALWAYS go up. So the amount you sign for is

not

what you will pay throughout. They definitely lure you in with all the deals they give you when you first sign but let me tell you they

quickly

go out of the door once youre in. Could definitely find somewhere else

decent

to live for cheaper. IT IS A

SCAM

. DO

NOT

SIGN HERE !!! Review from Google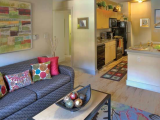 Jul 2018:
Pros

: The management and workers are super super

nice

! Maintenance always came within 1-2 days so that was

good

. It's really

close

to campus so if you don't like the bus this is probably a pretty

decent

place to go.

Cons

: I wasn't matched with the person I signed with. We didn't find out until last minute and for some reason they couldn't

change

it. The elevators

break

like

all the time

which is super unfortunate when you live on the top floor. Our AC

broke

every month (sometimes more than once a month) since we moved in. We tried telling them that we wanted some money back on utilities since it only worked half the time but they only documented that it

broke

4 times so they weren't going to (we all laughed when they said only 4). My last

complaint

is probably the utilities price because I'm living with 4 girls and we are all Review from Google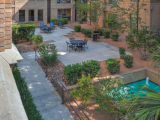 Jun 2018:
This place is

terrible

idc they lure you in with false promises that utilities will be no more than 50 dollars and slowly the prices start increasing till you're paying almost 100 dollars. The amenities for this apartment are

not

worth the price idc how

close

to campus it is. Upon moving in my room was experiencing

water

damage

that they tried to pin on hurricane Harvey mind you I had

big

ass dehumidifiers in my room for the first few months of living there. Later an actual crew came and said the

damage

was

due

to a

leak

in my roommates bathroom that took

forever

to "fix" and was

never

actually fixed. They do

water

by building so it doesn't matter how much

water

you save you end up paying

ridiculous

amounts to make up for other people. Something is constantly

broken

or

wrong

our ac unit has been acting funky for a while and they just n Review from Google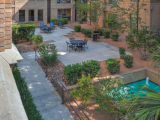 Apr 2018:
The amenities are

great

but what is even better is the location. It is two blocks from campus so you

don't

have to

worry

about the commute. The staff has been very

friendly

and helpful. Review from Google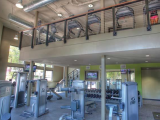 Mar 2018:
This is my second semester living at Sanctuary Lofts, and I can confidently say that I will be spending at least another year here. I

love

this place. The staff is

friendly

, helpful,

professional

, and at the same time, chill. Location is

perfect

for a swift, refreshing bike ride/walk to class.

Negatives

- My floor plan is a 4 Bed 4 Bath, and the bedrooms/bathrooms seem much smaller in comparison to the size of other apartment floor plans I've seen. I'm perfectly

happy

with the size of my space, but I've had people comment on the "quaintness". Our fitness center is

bad

-a, and the pool provides an

awesome

space for a bbq/pool

party

.

definitely recommend

this place. 🙌🏼

5 stars

Review from Google
Feb 2018:
3 days a week they have a

LOUD

trash

compactor going for around 2 hours starting at 8am. If you value you're

sleep

don't live here, wakes me up everytime. Have called and called to ask if they could do it at a different time and they

denied

the request. Review from Google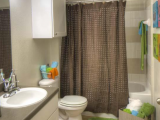 Feb 2018:
Staff is

great

, and they do a

great

job at roommate matching. Maintenance responds by the next day. The amenities are

great

and they have

free

waffle

Wednesdays every week. This complex is a

great

option for those who want to live super

close

to campus. It's also a minute walk from H-E-B and about a five minute walk from the square. Review from Google