Apartment Reviews
Back to Previous
Close Tab
Additional Reviews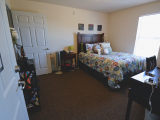 Nov 2019:
The apartments as a w

hole

and layout of the complex is

wonderful

&

beautiful

. However,

not

at all what you pay for. There is no insulation so you can hear everything from downstairs, to upstairs to next door. I walked into an apartment where the drainer on the sink was

not

working, the blinds were

dirty

, furniture was

dirty

/

messed

up, the sink in my room was

dirty

. The

broken

gate

hasn't

been fixed in nearly a month, I get cat called when I try to fix my

broken

blinds, there's no insulation & the walls are super thing so you can hear your neighbors from upstairs to downstairs to right beside you. Visitor spots are e-x-t-r-e-m-e-l-y

limited

and they try to towe your visitor and say they have violated the rules when they have

not

at all- over $140 in cash every time. ALSO you

can't

let a company drop off packages at your door because other people decide to

steal

it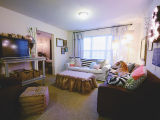 Oct 2019:
WiFi

never

worked,

poor

management, maintenance request would be marked as completed with it

never

being done, and

roaches

. Cute.

don't

live here.

don't

waste

you money. Review from Google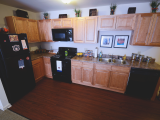 Oct 2019:
Terrible

apartments. Way

overpriced

for the quality of the apartment and complex. Parking lot has no lighting by my building making it

unsafe

to come or go when it's dark outside, as

well

as other residents driving around 60mph in the parking lot at all hours. Extremely

unprofessional

staff at front office. Every patch of grass is full of dog

poop

. The carpet of my apartment turns my feet black so clearly they don't

clean

in between leases. It's

disgusting

for the amount I pay as a student. Walls are extremely

thin

and there are

noise

issues

every day and

night

. Would

not

recommend. Too

bad

I can't

get out

of my lease. Only

positive

thing is that maintenance is

quick

to process work orders and fix things. Review from Google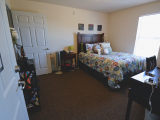 Sep 2019:
Overall apartment complex is

nice

. Walls are really

thin

and could be thicker. Outside of the building including concrete stairs needs to be power washed. Amenities such as shuttle to and from campus are really helpful. Parking passes are really

overpriced

an unaffordable for many students, such as myself. Review from Google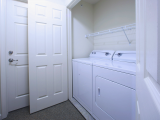 Sep 2019:
Everything has been pretty

great

since moving in until now. I live on the 3rd floor and the apartment above me had a

leak

in their bathroom and it ended up having my bathroom gushing

water

out of the sprinkler. I

wasn't

too upset about that but now we must have a huge

leak

behind our washer which created a ton of BLACK

MOLD

on our wall. All maintenance did was bleach it. It could come back at any time and when we called the office a day later asking if they were done or what the deals is, they told us that's something they

wouldn't

know about and would get maintenance to follow up with us. This is

not

okay

. Review from Google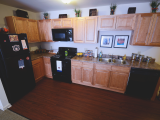 Jul 2019:
Roommate are

not

match appropriately. My daughter has a roommate that bring one to three dogs in there daily and now living room furniture that

smells

that she is

not

suppose to have in a

furnished

apartment. I put a informal and a formal

complaint

for them to contact me and

nothing

no calls at all I also asked for corporate phone number and I haven't heard anything yet. She

stuck

at this complex because no others where available for the time frame she needed it. I just wish they do there job and see that they have her in a unhealthy situation. One of the dogs came up to her now if he bit her a lawsuit will be next. It would be a

nice

place if they match u up appropriately and from time to time ck to see if things are

okay

if a

complaint

has been made. Maintenance is

good

they come when repairs are needed. Review from Google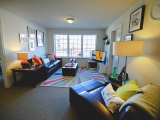 Jul 2019:
I've lived in Sterling (now Block 43), University Village and now here. This place is BY FAR the absolute

worst

. The management is

horrible

. The leasing office employees are

unprofessional

& pretty much helpless. Maintenance just comes in whenever, and very loudly. The out of the buildings are so

filthy

. Overall, just a

horrible

place to live. It's just flat out ghetto. Review from Google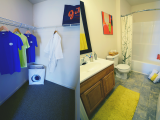 May 2019:
Comes

furnished

. The gym is the

best

thing out luxury pool & volleyball court. I'd recommend finding your own roommates instead of doing the application matching. Review from Google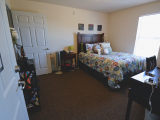 May 2019:
Comes

furnished

. The gym is the

best

thing out luxury pool & volleyball court. I'd recommend finding your own roommates instead of doing the application matching. Review from Google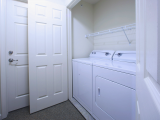 Mar 2019:
They are very

quick

to boot cars! They

charge

$120 to get it removed and $20 to use a debit card. So if you're visiting someone over here just don't go because they

barely

have visitors spots. They don't have visible signs telling people that they boot if you don't park in visitors. I would

never

live here because I would

hate

for my friends to have to pay that

ridiculous

fine. For these to be student apartments it's absolutely

ridiculous

to fine other students $140! Review from Google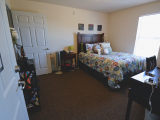 Feb 2019:
This place absolutely

sucks

. The property is always

dirty

, the staff is

not

helpful, office is

not

open when it says it should be, the buildings

smell

like weed, the walls are the thinest in the city, wifi goes out often, parking lot is

dangerous

. As a current resident, i am trying to

get out

of my lease, and it is almost

impossible

. I wouldnt suggest this place to anyone!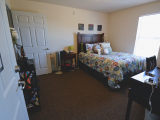 Nov 2018:
No, no, no and NO. I was gonna wait til my lease was up to post this but don't

waste

your money! Paying all of this money but the walls are super

thin

. I was literally having a conversation in the comforts of my room and my roommate

knocked

on my door for inquiries. I made a

noise

complaint

idk how many times one

night

and the so-called

security

they do have didn't show, management said they'll handle it but NAH! There's a homeless shelter RIGHT behind my building and just because it says "gated community" I've seen the gates put to work ONCE! And this is what tops the cake: there's about 15 buildings, 4 floors each but only 10 visitor parking spaces! So when my sister comes in town (she stays 3.5 hours

away

) to check on me and then take me to the Durham VA hospital, we come out and there's a damn boot. After hours number di Review from Google
Oct 2018:
I

love

living at the reserve in Greensboro, everyone is so welcoming and inviting. Review from Google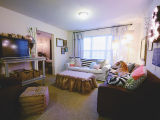 Aug 2018:
Overall for the area this is a

nice

student complex. After living here for 2 years I think the biggest

problem

was the college staff that act as if they're too

good

to

help

. To be clear it was some

not

all of the staff. The property manager was

always helpful

and

professional

. I believe they have a

littering

issue bigger than they can handle. For instance oil, grease, food, and

trash

being poured on the steps. There are cameras but I'm

not

sure how helpful they are because the parking lot and breezeway can be

filthy

.

Charging

these people

fees

for dumping may be a helpful solution. Review from Google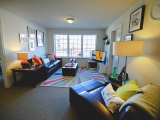 Jul 2018:
I've been at resident at The Reserve for about 3 years now and I

love

the amenities (computer lab, pool, etc.), the

affordable

monthly rates and the

beautiful

gated community! Review from Google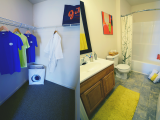 May 2018:
I know what you're thinking. People only make reviews when something goes

wrong

, but I'm here to tell you this entire establishment is

awful

and

unorganized

. They

left

my boyfriend homeless with no sympathy and offered no

help

. Weeks ago my boyfriend and I took a tour and signed a lease here. We were told his room would be ready on the 21st of May, and that was the date on the lease. Upon

leaving

, we asked if that was all that we needed to do, and they confirmed it and told us they would see us on the 21st. When we arrived to move in, we were told the room was

not

available and he would be homeless with no set date. This is problematic because my boyfriend is from Atlanta, GA and class started on the 21st. The staff expressed absolutely no sympathy. Another staff member, Tim, told us a room would be ready later that day when we asked f Review from Google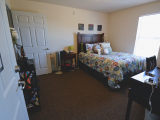 Apr 2018:
Honestly, If I could give this place

zero

stars I would. The Internet goes out almost once a month. They send out

rude

text saying "We know the internet is out, so no need to call." If this is student housing.....that should be the MAIN thing working. The walls are SO

thin

. I hear my neighbor snoring and I hear his

alarm

go off

every morning! The stairs are

filthy

. They let anybody have a

party

/cookout over here which leads to more

trash

being thrown. The

NOISE

is

ridiculous

. I am almost 100%

positive

they control the HVAC. Our apartment gets so hot , no matter the temperature we set it at.Also their

excuse

for low

water

pressure is the higher your apartment the lower your pressure. By the way, I am using my hotspot to type this review because the interent isnt working. Review from Google
Mar 2018:
SCAM

SCAM

SCAM

. Be careful before you stay here they are very

unethical

about

fines

. Predatory towing company used to boot cars even if legally parked. Staff is

impossible

to work with and prey on younger college students. Renters

beware

. Review from Google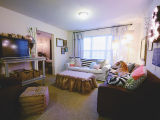 Feb 2018:
The Reserve is

not

the place to live. The walls are

thin

, they are overages for no reason. there are

spiders

around the windows. The tub drain

runs

slow

. They really

con

students into moving in by advertising the pool and volleyball court, but honestly it's

not

worth it. This is my first and last year here Review from Google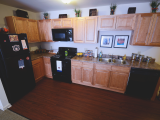 Feb 2018:
Do

not

stay here. It is a

scam

!! Utilities really aren't included. They give you a cap which you go over every month. When you move out they make up all types of maintenance

fees

and

charge

them to your account. Please explore other student housing options before choosing the reserve. Review from Google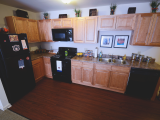 Feb 2018:
Pretty

great

place think they should target older crowed 21 and up Review from Google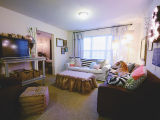 Oct 2017:
It was probably one of the

worst

places I had ever lived. The management is

horrible

and some of the staff are

unprofessional

/

rude

. The condition of the apartments are really

old

considering they are

new

apartments. People

throw

their

trash

everywhere including the parking lots, stairwells, and etc. The

noise

level at

nights

are

ridiculous

especially if you live below someone. The gate doesn't properly work anyone can just drive on in smh.

Horrible

,

Horrible

! I would've been better off staying on campus. Review from Google
Sep 2017:
The Reserve at Greensboro is one of the

worst

apartment complex's for students to move into in Greensboro. I have a friend who moved in and they placed her into a unit that had BED

BUGS

!! They did

not

thoroughly inspect the apartment when she moved in. When i moved into my apartment there was

mold

on the furniture and they moved me into an uncleaned unit as

well

. The staff there is extremely

unprofessional

. They

fool

you by being

friendly

when you first move in but after they show their true colors. I have another friend who's car had bullet

hole

s in it from sitting in the parking lot. They will

tow

your car even though you have a parking pass. I would

not

advise anyone in living at The Reserve at Greensboro for you own safety!!! Review from Google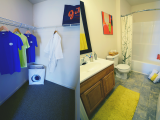 May 2017:
Awesome

place to live!

Great

staff and I really feel that you get a lot for your money! Would

definitely recommend

. Review from 5/18/17 on Google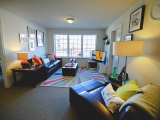 May 2017:
So far I've loved living here! The

events

that the staff holds are

wonderful

and having my personal space has been the

best

part! Review from 5/13/17 on Google