Back to Previous
Close Tab
Additional Reviews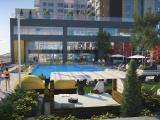 Mar 2019:
Most 5 star reviews are people claiming they've only had a "

nice

tour" of the place. I've

not

even had a tour but I trust the residents on this one, and I wanted to contribute to this dumpster

fire

of a review section. Review from Google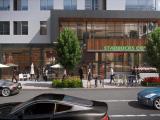 Mar 2019:
don't

MOVE INTO THE STANDARD ATLANTA!!! Absolutely

not

what was promised and no interest by management in addressing concerns

raised

about difference between what students are paying for versus what they have received.

Construction

is ongoing 8 months after move in. The Standard is

charging

rates at the high end and delivering a product that does

not

match. Based on our experience,

don't

expect The Standard to be responsive if you choose to rent there.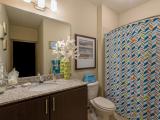 Mar 2019:
It was chill, the staff was really

nice

and

easy

to talk to. Whenever I had

issues

they were resolved relatively

quickly

. Pretty damn

expensive

and utilities are

not

included (around an extra hundred a month) so keep that in mind. The gym is

AMAZING

and the pool area is super

nice

. I would look for cheaper options but if price

isn't

a prob, go for it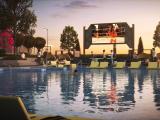 Mar 2019:
I took a tour of the standard yesterday and it did

not

disappoint! Paul Weiland gave me an

excellent

tour and he seemed very

knowledgeable

. He was

great

to tour with and he really showed us all the

amazing

characteristics of the Standard.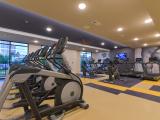 Mar 2019:
Stay

away

. Office closes whenever they feel for meetings without extension. No recycling. Parking lot has

never

been pressure washed and has more

dust

than the Sahara desert. Only two elevators, one of which is always

broken

. Staff with an attitude. Building still under

construction

. Walls

leak

whenever it rains.

Not

properly insulated so rooms are always extremely cold. Hallways are

filthy

and hardly ever cleaned. The w

hole

operation is a sham. Stay

away

.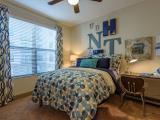 Jan 2019:
Is there a

zero

star rating? I could write a laundry list of items that were over-promised and under-delivered since by child's move in date. Yet the rent continued to be at the full amount. The hallway still looks as

dingy

as move-in day. Doubt it has ever been vacuumed. As an added bonus, the first ones to sign a

contract

were given ground floors with views of a semi-transparent screen covering a bath house. Save your money and go to a dorm or elsewhere. Review from Google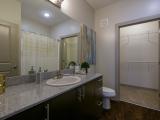 Jan 2019:
SAVE YOUR SELF! DO

NOT

LIVE HERE. They will tell you one thing and do something totally different. They have the bait and switch

down

to a science. My daughter has handled her living arrangements for 2 years with no involvement from me. All of the parents had to get involved. If we could have cancelled we would have done it. My daughter will live her next year and I am

afraid

. They have no interested in helping anyone. They just want money. I am sure we will be nickled and dimed. I wish

0 stars

was possible. Review from Google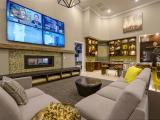 Jan 2019:
My experience living at The Standard has been

nothing

but

amazing

. Since I moved in the staff has gone above and beyond to provide exceptional service. They also have a

quick

maintenance response time as

well

. Review from Google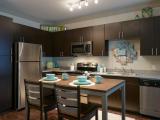 Dec 2018:
The Standard, despite all the

bad

rep it's received, has been really

good

to me. My apartment is gorgeous, the amenities, now that they are done, are by far the

best

in town (the pool deck literally looks like it's from a resort in Cancun and the gym is 5 times bigger than anywhere else I've seen), and the leasing office staff is full of incredibly

nice

people. Paul Weiland, Nicola Stone, and Nicole Flocco from the office were especially helpful in giving me a tour and answering each and every question I had regarding apartment floor plans, appliances, parking, amenities, and a plethora of other things. Thank you so much Paul, Nicola, Nicole, and the rest of the staff for making my living experience here so

awesome

! Review from Google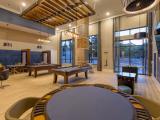 Dec 2018:
DO

NOT

LIVE HERE. seriously the staff is truly

terrible

and have

no idea

what is going on. i have been constantly

screwed

by them. Read all the other reviews and see i am

not

alone. you do

not

want to live here it has

nice

amenities but is absolutely

not

worth it find anywhere else. Review from Google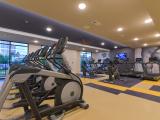 Nov 2018:
From

construction

delays to

lack

of effort by maintenance to a mandatory

charge

to simply keep a payment option on file, this place really needs to

change

something. The amenities are very

nice

- pool, fitness center, etc. However, most were

not

completed until about 2 months after moving in. There were several

problems

with the room when we moved in, including paint all over the carpet and floor, doors mounted ajar, and an unpainted wall, most of which are repeatedly marked completed without any action taken by maintenance to fix the

problems

.

not

worth it for the price. There are better options for student housing in midtown. Review from Google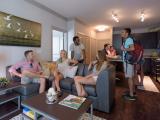 Oct 2018:
Stay

away

at all costs.

didn't

have mail for the first two months. Even checks from the bank

wouldn't

get to them and I was somehow to

blame

for this.

Trash

chutes frequently

broke

,

fire

alarms

sounded 5 times a day including in the middle of the

night

. One elevator worked for most of the time but even now with two and 18 floors it's inadequate. Constant ongoing

construction

. While some staff members have gone out of their way to

help

me out, some our just

rude

and

change

their opinion on something from one day to the next. The amount of time and stress that I have sacrificed by simply being a resident here is astonishing. You are paying g for a service that you seldom get. Also parking is incredibly tight and

poorly

monitored. Hallways are

never

clean

either. Overall, a

terrible

mess

.

Not

to mention the

terrible

construction

quality. Just is Review from Google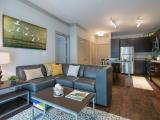 Oct 2018:
This place is absolutely

awful

. There is more

dust

in the air than a quarry. It's sounds like a beginners rock band is forming from all the banging. The elevator floors are chipped. Only one jacuzzi heats up. One

security

guard sits in the corner of the parking lot pretending to be watching cars enter an exit...

not

to mentioned a parking lot only navigable by shopping cart sized vehicles. It's like living in an active war zone...yet war zones usually don't

charge

rent.

Not

only do they

charge

rent but they message you back with "updated" contracts with higher rates than you have already agreed upon claiming that their prices are "subject to

change

." It's a

shame

, what could have been such a

nice

place to live is a half finished zoo. Ironically, the

construction

of the other half is damaging the parts of the building that we Review from Google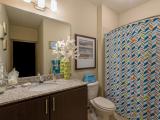 Oct 2018:
Stay

away

from this place – The only reason I give it 1 is because I

cannot

give it a 0 - Don't even try to talk to the front office – they only know only one word– "NO" you are always

wrong

and they are always right. It's a racket to make money off the students and their parents. And as Nick mentioned in his review – parking is very

poor

– and I mean both design and monitoring (I think it is designed for European sub-sub-compact cars). Look for other student apartments in Atlanta. Review from Google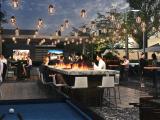 Oct 2018:
It is incredible that anyone thought this building was ready to be opened to residents. It is incomplete. The level of incompetence is wild. We

can't

even get mail. Rates will be INCREASING as

well

. They had the audacity to ask their residents to sign leases for next year. No thanks :) Review from Google
Sep 2018:
Deciding to live here was a huge

regret

. The staff continuously makes promises they

cannot

keep and has no

problem

taking advantage of the fact that we are students. On top of that,

construction

noises and

fire

alarms

wake me up everyday and management has provided

zero

compensation in return. Review from Google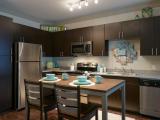 Jun 2018:
Very misleading and loop-

hole

y leasing agreement. This is the sort of company that will leverage any and every amount of legal power to make sure they have either

broke

even or made money off of you regardless of whether the service they provide was worth it or

not

. I highly suggest

not

dealing with a company like this. Review from Google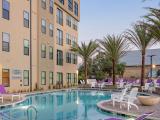 May 2018:
The employees of this

shady

company are going around rating their own apartments, with this complex

not

even being open yet. How can you rate an apartment if nobody has lived there yet? Review from Google