Back to Previous
Close Tab
Additional Reviews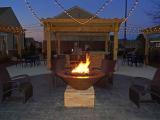 Jun 2019:
So far so

good

. No

complaints

. It's very

quiet

over here and

I like

that

not

really too much be going on. I moved over here 6/14/19 and my room was

clean

. Things I needed was minor and they came right

away

and fixed it. I only met one of my roommates and she is

cool

. The room is very

spacious

and the bathroom. I

love

the fact I have my own bathroom that is a plus and glad to have a washer and dryer. The pool is

awesome

. I workout every morning so I

love

the fact the gym is 24 hours. The town homes are around everything shopping centers grocery stores gas stations restaurants etc.Im also glad you have to use a code to get in the gate so it's a gated community.The area is

clean

as

well

for my short stay here so far everything is pretty

cool

to me. I

would recommend

49 North Apartments. Review from Google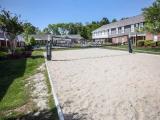 Jun 2019:
Been living here for 2 years and it is definitely

not

worth the rent. I suggest you look elsewhere Review from Google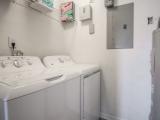 May 2019:
49 North is

not

the newest off campus apartment complex for UNCC, but its still a really

good

place to live. The gate stays open during the daytime, which makes it

easy

to come and go. For a 4 person, 4 bathroom place to live, with amenities and utilities and a gym the space is pretty

nice

.

I renewed

my lease. The only

problem

is that my roomates and I have made repeated

complaints

to staff about a pet issue that has

not

been addressed. Its

not

a

big

problem

, but just annoying that me and my

old

roomate (who has since moved out)

complained

and

nothing

happened. Review from Google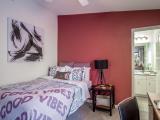 Mar 2019:
Pretty

decent

living. Had 3 other roommates, private bathrooms, shared living, dining & kitchen.

Close

to the university. People can walk to school if they wanted but a bus actually comes to these apartments to pick students up as

well

which is

nice

. The gate is constantly

broken

. You will

smell

weed eventually. Maintenance can be kind of

rude

but then again they're dealing with a bunch of college kids so I let it slide. The place is actually pretty

nice

. Has sidewalks. The parking spaces can be small so be prepared for people who

can't

park to save their lives and random markings on your car from other peoples car doors. It's going to happen. Accept it now if your going to live here. Or just park farther

away

. Live with people you know, if you can. Heard only 2

gun

shots the w

hole

year living here so...

not

bad

at all. Watch out for the random checks and

fines

they'll give you if your home

isn't

clean

, and I'm talking about the common areas Review from Google
Mar 2019:
Horrible

place to live, the rooms/apartments look

NOTHING

like what they show you on the tour. Do

not

be

fooled

! The rooms and bathrooms aren't throughly cleaned before move ins so it looks like you're moving into a place where somewhere literally just packed up and

left

. Carpets are

dirty

and bathrooms looks like

mold

and

mildew

have been building up over time, vents are

gross

and

bugs

can easily come in because there's no screens on any windows! They pick & choose when they want someone to come in to

tow

cars,

not

even consistently plus they don't even give out visitors passes anymore and the lot by the leasing office is almost always full so where do they expect visitors to park?!?! Office staff is so unconcerned about

problems

that we have, and have no sense of urgency. Don't let the

cheap

prices get you. Wouldn't recommend!!! Review from Google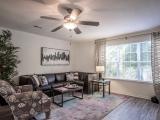 Feb 2019:
not

worth the price they are

charging

. The first month I stayed here they

charged

me for

not

having insurance(which I did because you need it to get the keys to the apartment) I sent them all the files they needed when I got my keys and then they said they weren't the correct files. If they weren't correct ones how come I was given my keys to move in? They don't

tow

either and people don't know how to park. I've seen a car park in 3 spots before. 3!

Not

just 2. I didn't even know that was possible. And there is no guest parking which makes no sense. Where is my family/friends or girlfriend supposed to park? The

security

guard doesn't do anything either other than be in the way of everything. He makes sure to park in such a way where nobody can go around him unless he moves. If you're moving to Charlotte and going to school you're really better off living anywhere else
Dec 2018:
Moved in October to the complex, was greeted with a

broken

ceiling fan. One of the blades of the fan was resting on top of it and when I turned on the switches, it flew off and crashed into a wall. That was day one. I have only been here two months and have experienced

rude

and

unhelpful

staff, the rent is way too

expensive

for the

poor

amenities that are offered, the gate is frequently

broken

or

left

open. Most parking spots are taken by people who do

not

live here, towing is

not

at all enforced, and the wireless internet disconnects randomly throughout the day. Its an inconvenient place to live, the website is misleading, and for upwards of $590 a room it is

appalling

how

poor

customer service is. Do

not

rent here! Review from Google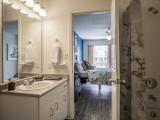 Dec 2018:
Overall

not

a

bad

place to live especially if you go to school

near

the area. 49 is continuing to improve the complex and have acknowledged every

complaint

i have had. Review from Google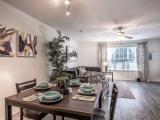 Dec 2018:
If you're going to live here, do

NOT

make it longterm. It's a

great

solution for people just getting out and onto their feet. Though the staff may seem

nice

, they do

NOT

actually

help

any

problems

you may have. They are no "

always willing

to go out of their way to

help

residents." So unless you have to ABSOLUTELY live here- I suggest you live somewhere

help

. Here are some suggestions: University Village is right

down

the street. There's Blvd 98, University Walk, The Flats- LITERALLY ANYTHING ELSE. I wish I would've

never

signed a second year lease.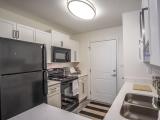 Sep 2018:
49North provides an

excellent

,

safe

, and

affordable

option for UNC Charlotte students looking for

close

proximity to campus and other dining/retail options. While

not

as updated as many other student-housing options, the community has recently replaced dated cabinets and flooring within the common areas and kitchens, so there has been a push for improvement in that regard. The clubhouse has all the amenities needed with

free

printing/computer access, a 24hr gym, and lounge space. Like the rest of the property, the pool area is fairly dated and underutilized, however, there is a

great

grilling space adjacent to the clubhouse and pool. The staff in the clubhouse is

excellent

and

always willing

to go out of their way to

help

residents; Maintenance, however, is

notorious

for having difficulty fulfilling work-orders with many corrections only provi Review from Google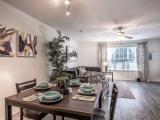 Sep 2018:
The staff is

very helpful

. I

love

that it's

quiet

at

night

. I feel

safe

living here and that's super important. The gate is open and

closed

at random times. I wish it had more of a set schedule. It can be a bit inconvenient at times because some people don't know their codes and it creates a long line. Review from Google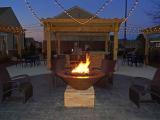 Sep 2018:
Living at 49 North has been

great

. It's a very

nice

living community for the

cost

& the area. Its so

close

to school and under $600! Review from Google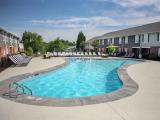 Sep 2018:
I like

it here a lot. The location is

great

, the rent is reasonable, and I haven't had any

problems

whatsoever. Also my room is a super

good

size and my maintenance calls have been addressed. The only

complaint

I have is that sometimes

trash

gets piled up copious amounts and it looks and

smells

really

bad

when I pass by it, but I don't know if the complex has power over how often the

trash

men come. Otherwise it's

great

. Review from Google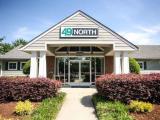 Aug 2018:
I do

enjoy

the complex and area. Staff is kind and

friendly

. In the past they have

not

been the quickest to solve maintenance

problems

or

issues

but are rapidly

changing

with

new

management. Very

good

,

affordable

, and

safe

community. Looking forward to this upcoming year. Review from Google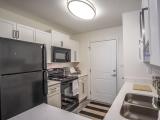 Jun 2018:
Moved in August 2016 and it was a

good

experience at the beginning. Hope, Cameron and Marcus are

awesome

and always super welcoming when they work in the office. However, I

can't

say 49 North has been the

best

. FIRST: they

don't

give proper

notice

when work is going to be in the units. This happened twice now and one resulted in my flat screen being

damaged

as

well

as my

coffee

table became indented with a

scratch

. My TV no longer works. My roommate and I were promised gift cards for our

inconvenience

but

never

got anything. They should've just

not

said anything about giving us anything. SECOND: on my lease it had originally stated that it ran until July 31st but yet move out is July 27th at noon and so I am basically paying them an extra 4 days. I used to like 49 North but now I

don't

recommend it to anyone. Review from Google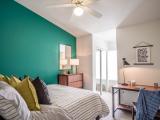 May 2018:
I can't wait until my lease is up. It's

not

even that the complex is

bad

, just the people who

run

it. And I

hate

giving them money because they're

rude

and

inconsiderate

. Update: I've asked for my dishwasher to be fixed as it's been

broken

since I moved in and he

left

a

paper

here so I know someone cane in my house but no one fixed our dishwasher. Also they will try to find you for anything!! They said I owe them $400 for my ESA even though I sent my letter. Stating they were unaware of the animal instead of simply calling me to fix the paperwork. Review from Google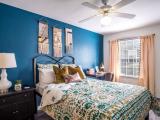 Apr 2018:
Moved in August 2016 and it has been a

good

experience. There are occasionally a few hiccups but what place is

perfect

? The office staff has always been

friendly

when I've had any

issues

and were

quick

to address and handle them. Hope and Marcus are

awesome

and always super welcoming when they work in the office. Overall it's been a

good

experience. Review from Google
Apr 2018:
a

great

place to call "home". The entire staff always greet you with a smile and are

very helpful

to our needs, and are

quick

to attend to any

problems

that arise . The grounds and facilities are kept

clean

every day by

friendly

courteous

workers. The workout rooms are open 24//7 are rarely crowded and the pool area is

lovely

. . . I live alone here and could

not

feel

safer

anywhere else....a

beautiful

neighborhood with parks and trails. Review from Google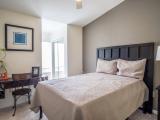 Apr 2018:
I

love

living at 49 North.

Bad

reviews are very misleading. Any issue that is brought up to the office, they will do everything they can to fix it. I see lots of

complaints

about the staff but I

enjoy

interacting with everyone from maintenance to the property manager herself. The town homes themselves are

nice

as

well

. For the price you really

can't

get any better Review from Google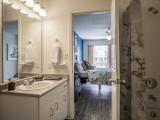 Apr 2018:
Living here is a

great

experience. If an issue ever rises the office always takes

care

of it or puts me in the right direction. Any

problems

I have had have been resolved and

not

recurring. These town houses are

great

and supply a

decent

amount of space Review from Google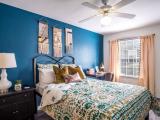 Feb 2018:
The management is

excellent

, as they try their

best

to accommodate you in the

best

way possible. I really

enjoyed

my large bathroom and stay. Review from Google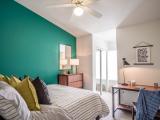 Feb 2018:
The staff is super

nice

!

I like

the apartments. They have a home feel to them. Definitely better than a standard apartment since there are 2 story apartments. Its a

great

place to live!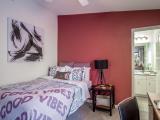 Feb 2018:
After reading a plethora of mixed reviews before moving in, I will admit, I was a little skeptical of moving in. Now that it's been almost two semesters since I've lived here, I would say that the only

problem

I've encountered is the

bad

parking. My roommates and I absolutely

love

the townhome style — my friends have more

expensive

apartments and are only

limited

to one floor! Now, what's to be said of the front office? Every time I walk in the front office, whether I am greeted by Marcus' sassy attitude, Cameron's sunshiney face, or Hope's evict-their-asses staunch personality, I feel a sense of comfort and compassion that I haven't felt since the tender age of 4. Thank you, 49 North. Review from Google
Feb 2018:
To whom it may

concern

, . It is 2am on Saturday morning. I have been trying to dry my laundry since WEDNESDAY afternoon. I have

complained

to the front office SEVEN times since I moved in in August to fix the dryer in my apartment only to have my request canceled. My clothing

smells

like

MOLD

. So

bad

it makes me

sick

to my stomach to even

wear

most items of clothing and leading me to

THROW

OTHERS OUT. It

doesn't

matter if I put a FULL load in the dryer or only a few items IT WILL

NOT

DRY. I am

fed up

and

appalled

at the

lack

of customer service from both front office and maintenance staff. I have requested to be in the apartment when maintenance comes to fix the dryer and they all but flat out refuse , saying they go by "most severe" call first. As

well

, when my tub was flooding into the kitchen they brushed it off as it was no

big

deal, meanw Review from Google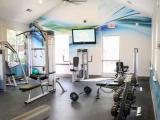 Feb 2018:
The rudest and most

unhelpful

staff you will truly ever meet. They need a complete overall.

Unacceptable

way to deal with someone who is already distraught over losing hundreds of dollars too this

scam

of a company. Review from Google