Back to Previous
Close Tab
Additional Reviews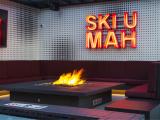 Jul 2019:
Good

location but everything else, eh. I was thinking about renewing my lease but I

never

received an email. I went

down

and talked to three different people, three different times. They always write

down

your name on a sticky note but

never

do what they really say they will do. I mentioned to them months ago that my email needs to be update, and they said that they did. But they still "sent" the link for the lease to the

wrong

email. When I contacted them about it, all they could say was "there's

nothing

we can do about it". I should have known from the start, I had sign my lease 4 times, 4 TIMES.

Amazing

Location, but the management could be better. Some of them are SUPER HELPFUL and some just

don't

care

. If you can look elsewhere, you should. You'd be paying way too much money for just a

headache

. Review from Google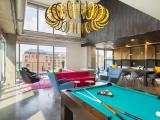 Jul 2019:
Overpriced

for

mediocre

apartment services.

Not

sure why the office is located above lobby area, but

due

to this

bad

design the mail man likes to drop off items in the lobby area, which there is no staff all day long. In the mail room, you see piles of mail on the floor with no regard for safety. Anyone can just come in to grab your stuff. That's why I

never

order any

big

items to the Hub. I had a roommate who puts on music so

loud

the w

hole

hall could hear him. I called management. 3X. They told me they will deal with it but NOPE.

Stuck

with a

loud

roommate ALL year long and they didn't do ANYTHING. Short version: Don't rent here!!! Review from Google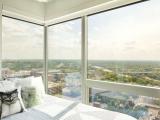 Jun 2019:
This place is the

worst

. I have put in 4 maintenance requests in order to fix our dishwasher that

leaks

all of over the place. Then the next time I go

down

to the leasing office they say that they

haven't

even got a maintenance request when they said they would put it in the other 3 times. In order to try and make up for this they said they would put it as an emergency request which I thought would get the job done.

WRONG

! It has been over a week since then and still nobody has bothered to come fix it. This place is

not

worth the price that they offer. DO

NOT

RENT HERE! Review from Google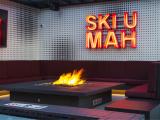 May 2019:
DO

NOT

LIVE HERE. Management is

awful

and has repeatedly tried to fine people excessive amounts of money for reasons that were

not

previously in the lease agreement. Beyond this, the place is often

left

dirty

and very

poorly

ran.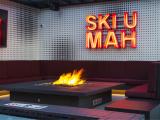 May 2019:
The only

good

thing about this apartment building is the location. I was fine with everything going on that everyone else complains about, until they sent out an email saying that they're implementing wrist bands that people have to

wear

around the pool and a person can only bring two guests. A "

lost

" wristband will result in a

fee

, so if you want to bring more guests you have to pay basically. So here's a list of everything else that

sucks

about the hub, since they really wanted to

screw

everyone over one more time: The elevators are SO

slow

. Add an extra 10 minutes to your commute if you live above floor 10-15. And one always seems to be out of order. Signing a lease is insanely complicated. I was

not

contacted when something was

wrong

with my application until they told me I wouldn't have a secured spot, and when I contacted them to fix it and specifically asked if anything else was

wrong

/my spot was secure, I was told everything was

okay

Review from Google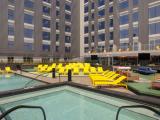 May 2019:
The only

good

thing about this apartment building is the location. I was fine with everything going on that everyone else complains about, until they sent out an email saying that they're implementing wrist bands that people have to

wear

around the pool and a person can only bring two guests. A "

lost

" wristband will result in a

fee

, so if you want to bring more guests you have to pay basically. So here's a list of everything else that

sucks

about the hub, since they really wanted to

screw

everyone over one more time: The elevators are SO

slow

. Add an extra 10 minutes to your commute if you live above floor 10-15. And one always seems to be out of order. Signing a lease is insanely complicated. I was

not

contacted when something was

wrong

with my application until they told me I wouldn't have a secured spot, and when I contacted them to fix it and specifically asked if anything else was

wrong

/my spot was secure, I was told everything was

okay

Review from Google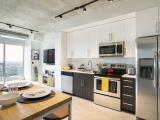 Apr 2019:
BEWARE

!!! Applying for a unit here is apparently a gamble. They

charged

me $150 to apply for a unit (which I was approved for) and because someone else had already applied previously (they

didn't

inform me of this) the previous applicant got the unit. This would have been fine.. accidents happen.. BUT they

refused

to

refund

the $150 application

fee

even though this situation was clearly their

fault

for allowing multiple bookings... Review from Google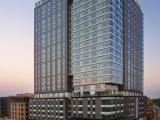 Apr 2019:
BEWARE

!!! Applying for a unit here is apparently a gamble. They

charged

me $150 to apply for a unit (which I was approved for) and because someone else had already applied previously (they

didn't

inform me of this) the previous applicant got the unit. This would have been fine.. accidents happen.. BUT they

refused

to

refund

the $150 application

fee

even though this situation was clearly their

fault

for allowing multiple bookings... Review from Google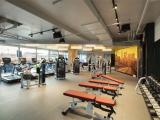 Mar 2019:
We come to the U to learn. If you are looking for the easily found and financially draining experience of being taken advantage of for a

great

location,

stop

your search and lease now! The Hub is here and willing to exploit the needs of you and your friends while also taking tax

breaks

by branding as "

affordable

housing for students".

Enjoy

. Review from Google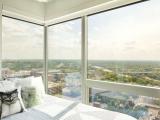 Mar 2019:
Would give this place

zero

stars if I could. -

Appalled

at the

poor

communication/management/treatment of residents. A

close

relative of mine lives here and I am

appalled

at how she has been treated. Given this is a brand

new

building you'd think everything would be up to code. - When the cold temperatures

hit

, the unit was literally too cold to live in. Nobody responded to the issue in a timely manner and it was

NOT

taken seriously. What was the issue? The contractors "FORGOT" to insulate their room. WOW. - Thank goodness we had family

close

by or she would have had nowhere to go. They relocated my family member a week later to a different room, saying they would fix the

old

room. (Also, they asked for a moving cart, because they had to move all of their belongings to a different unit, and the desk worker

refused

to give them a moving cart. Which tripled the amount of time it took them to move Review from Google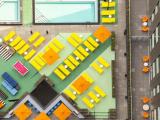 Feb 2019:
It's 2:15 AM and and I couldn't

sleep

because my neighbors are talking very loudly. I tried to call the staff but no one answered. If you want to have a peaceful

sleep

, please do

not

live here. I called 911 multiple times and the neighbors are still partying

late

night

. I am mentally frustrated and willing to switch to another unit but the manager has to 'talk to each other' in order to give me an answer. No one at the leasing office cares. Review from Google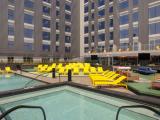 Feb 2019:
This place

SUCKS

. Wrote a review before, to which the owner responded, but I couldn't update or respond. Contrary to claims, management WAS aware of the theft and

didn't

do anything about it until we got the

police

involved and told Hub to look at the video footage. At first, they told us they could

not

see the theft take place on the footage. When we told them to show us the footage so we could show them the bike in question, they said they were

not

allowed to. They came back a day later and said they found the theft on the footage, but the individual was

not

a Hub resident. Unsure how this could be determined in such a short period of time. Stating in their review response that they were

not

aware of the

issues

we were experiencing is only testament to the fact that staff members do

not

communicate with one another. Anyway,

good

luck pullin Review from Google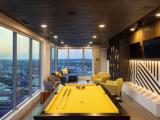 Jan 2019:
1. Rent for 2b2b DOUBLE here is even higher than 2b2b single in other apartment just one block

away

. 2. Early renewal even has NO discount. 3. We have sent FOUR maintenance requests and countless Emails for the air infiltration

problem

since 4 months ago, still

not

solved. The w

hole

room is freezing, even we turn on the AC. The contractor has came for 2 times and promised they would come back to fix it. But they

didn't

. We just got another E-mail from Hub saying they will come to check the

leaking

wall on tomorrow morning. I hope they will fix it this time, finally. For this we have been paying higher electricity and suffering from the cold wind for months, but apartment

never

promise us of a reasonable compensation.(01.30 update. The contractor

didn't

come last week and promised to come this today, but they

broke

their promise again😡) Review from Google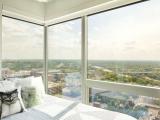 Jan 2019:
I would give

zero

if I could! You can't believe how many accidents happened since I moved in! Garage door doesn't work, being trapped in elevators or elevators drops several floors, no hot

water

for a day... But what happened today is just unbelievable and intolerable!!! AC system

breaks

down

in the coldest weather 25 years ever!! Many people's room temperature is

down

to 30 and they have frost on their windows in the room!!! Office told us there would be some maintenance people to fix that door to door tonight, which was turned out to be totally a

lie

!! Many of us have been waiting for the w

hole

night

from 8pm to almost midnight just for

nothing

and nobody!! Even people on the emergency maintenance call didn't

help

at all!! They were so perfunctorily!! We don't pay $1000 a month to

sleep

in a room which likes

sleeping

on the street Review from Google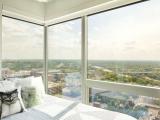 Jan 2019:
I

love

living at the Hub! Such a

great

location with the light rail station (East Bank) literally just outside the building. I

love

the amenities, the

events

they have for residents and the staff are all

great

! (I also

love

our apartment— which has arguably the

best

view :)) Review from Google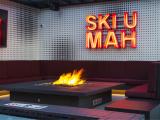 Jan 2019:
1. Location is

perfect

. 2.

Love

the gym,

coffee

and hot chocolate. 1. Rent for 2b2b DOUBLE here is even higher than 2b2b single in other apartment just one block

away

. 2. Early renewal even has NO discount. 3. We have sent FOUR maintenance requests and countless Emails for the air infiltration

problem

since 4 months ago, still

not

solved. The w

hole

room is freezing, even we turn on the AC. The contractor has came for 2 times and promised they would come back to fix it. But they

didn't

. We just got another E-mail from Hub saying they will come to check the

leaking

wall on tomorrow morning. I hope they will fix it this time, finally. For this we have been paying higher electricity and suffering from the cold wind for months, but apartment

never

promise us of a reasonable compensation. Review from Google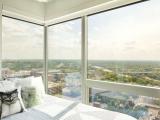 Jan 2019:
Hub Minneapolis apartment is

good

for student. Specially, the location is

near

to the campus library and rails.the officers are

friendly

they try to

help

all residents. it's fully

furnished

and a

clean

,

quiet

place. pet

friendly

.The amenities are

good

as

well

. Review from Google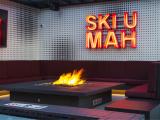 Jan 2019:
Hub Minneapolis is an

amazing

apartment for students and anyone else who works

near

the University of Minnesota. Location is

excellent

, right on Washington Avenue directly

across

the East Bank light rail station (Green Line) along with several restaurants and

coffee

shops. Very comfortable living arrangements, brand

new

amenities, state of the art appliances. Staff throughout the building are welcoming and accommodating to all residents, making the living experience even more

enjoyable

. Having special access to the penthouse lounge and hot tub are certainly a bonus!

Not

to mention frequent giveaways,

cool

merchandise and

fun

events

that the staff host right on the property. Rent is

expensive

, but

well

-worth the amenities and the convenience. Wish I could keep living here. Review from Google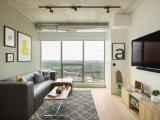 Jan 2019:
The Hub Minneapolis on Campus is the

perfect

place for students attending the University of Minnesota. The staff here are so

nice

and accommodating to all the residents it makes living here so

easy

. The amenities, whether you live on the first floors or the pent house levels, are so

amazing

. They give

away

free

food and have

fun

events

all the time

.

Not

to mention the location, it's right next to the light rail and even closer to campus than the residential halls. I would

definitely recommend

living here! Review from Google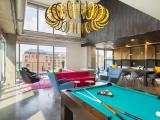 Dec 2018:
The Hub is staffed by incompetent student workers led by a manager who thinks she can ignore her tenants because they're mostly students. Within the first six months: - the elevators

broke

half a dozen times - the hot

water

randomly

went out

3 times - the floor of my bedroom began

leaking

pink air conditioning fluid - and a handful of minor

issues

I've already forgotten because I can't keep track of all the ways this place is

falling

apart

. The maintenance request service also hasn't worked in five months. This building was rushed in

construction

to get it "ready" for this year. They

charge

lofty rent to students who don't know any better. I wouldn't be surprised if the w

hole

thing falls over before 2020. Don't. Live. Here. Review from Google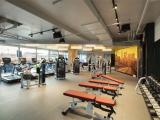 Nov 2018:
A

wonderful

living experience! Everybody on the dance floor! Soooo much

fun

here! Review from Google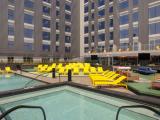 Nov 2018:
UPDATE: My review used to be two stars but I moved it up because I was focusing too much on the

negatives

. The hub is a

great

place to live, and I'm glad

I renewed

my lease. I think all of the

one star

reviewers have had one

crappy

experience and based their review solely on that experience. What makes the hub

great

is that its really unique compared to other nearby apartments. It's

awesome

views, sweet amenities,

friendly

and

professional

staff, and

nice

interior make it a

great

place to live.

Good

stuff: -very secure building -fantastic views -fair pricing (it's

expensive

, but worth it) -heated parking garage -

nice

kitchen appliances -hot

water

comes out if the faucet without delay -

friendly

staff -an

awesome

hot tub on the top floor, from which you can see the Minneapolis skyline -a second hot tub on the seventh floor -cable TV -small Review from Google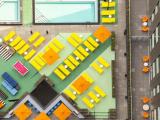 Nov 2018:
THE MANAGEMENT IS A

MESS

. There are just a few managers working and they do

not

have any communication each other, AT ALL. If you bring up some issue to the office, roommate issue in my case, all you can hear is "I am busy" and they talk to you harsh.

Excuse

me? Whether you are busy or

not

is

NONE

of my business, and dealing with residents' issue is your job and your responsibility. I am very frustrated by how

unorganized

the management is and

irresponsible

managers are. I have experienced this several times already. I

don't

know why managers are always

mad

. If you are a resident or a future resident, I highly

recommend no

t to deal with managers; if you talk to them, you just start hearing complains and would make you irritated. If you really need to communicate them? Just send them emails.

don't

forget to forward it to all the managers, othe Review from Google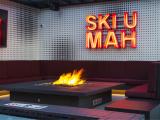 Nov 2018:
It has been a truly

unpleasant

experience staying here. Full of privileged students who just want to

party

. The walls are

paper

thin

, the corridors

smell

like weed, we've seen

vomit

in the elevators on several occasions, and management

sucks

. My boyfriend's bike got

stolen

from the garage (where he pays $200 to park his car each month) from right in front of a

security

camera, and it seems that staff members have done

nothing

to recover it. Also, neighbors have two (or three?) annoying dogs that are startled by everything. They literally bark whenever we

close

the front door and sporadically throughout the

night

. I feel

bad

for the dogs.

Not

a

great

environment for easily startled animals. My boyfriend would be gone already, but he can't

get out

of the lease unless he finds someone to replace him. However, I refuse to talk this place up Review from Google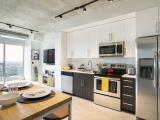 Sep 2018:
Great

location,

great

people, and if you consider the price and all of its amenities, you get a lot more than what other apartments are offering in Minneapolis - including downtown locations. These things include a full gym, yoga room, sauna, study lounges,

free

printing,

trash

chutes (possibly on every floor it seems?), top notch views, fully

furnished

apartments with own washer/dryer units and more! The first few weeks of opening, I noticed

issues

but it seems like they have been resolved and I hope they start getting their management

together

.

Issues

include non working elevators, overfilled

trash

/recycling chutes,

water

issues

. Again, it's all

new

so it was kind of expected to see some

issues

occurring. They have been very communicative and even offered reimbursement for first months

water

bill. — One thing I terribly

hate

about th Review from Google