Additional Reviews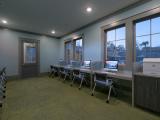 Feb 2019:
All the

positive

reviews are lies! The responce to my review by Retreat was a

lie

!

Nothing

has been satisfactory resolved. Also, in addition to more

fees

has been

charged

! Office staff is completely

useless

and nobody knows anything. Do

not

rent from this complex! Review from Google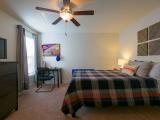 Jan 2019:
Horrible

Place to rent from! Be ware, what is promised, will

never

be delivered. My daughter moved in to

dirty

apartment,

never

cleaned prior to her move in. Since she was a returning tenant she was told there will

not

be a Pet

fee

charged

, but when she turned in a move in sheet and stated all the

damages

, they immediately decided to

charged

her pet

fee

. I have been going around and around, nobody at the office knows or answers for anyone. What she was told is completely

not

what she is

charged

. They will nickle and dime you with you with tons of

fees

so be aware! Will

never

recommend this place. Everything is

cheaply

built and nobody takes

care

of anything.

don't

fall in to the bright pictures and promises the staff will make you because nobody stands behind anything! Review from Google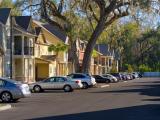 Jan 2019:
Have lived here for 3 years and staff is absolutely

horrible

. They don't do their jobs and do a

horrible

job when they actually do so. I'd recommend looking elsewhere for housing.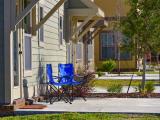 Jan 2019:
Be aware if you have a dear member of your family living in this so called: "

nice

place" you

won't

be able to visit EVER WITHOUT GETTING YOUR CAR

TOWED

. The community has at least 750 students and ONLY 10 visitor parking spaces. This is absurd!

Knocking

on wood,

nothing

ever happens happens to my daughter because if so, I

won't

be able to come

help

her. Review from Google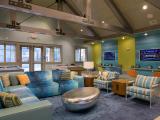 Dec 2018:
Landmark properties owns these properties they are

Thieves

google "Scott Macak arrest" he is facing felony

charges

in Tampa for stealing from the retreat. The staff is

Rude

guess who Scott was ?? Just read last years reviews of the Tampa retreat he was the property manager there having countless students cars

towed

. He was most likely getting a kick backs from the towing company given his felony arrest in September - just go to the hillsborough clerk of court web site search public records read the arrest report from Tampa

police

. This place is full of

criminals

. The last guy working in the office recently

stole

packages from students , instead of claiming it through the carrier they made an

illegal

insurance claim . Bunch of

thieves

!! Landmark properties Owns all these

crooked

properties Review from Google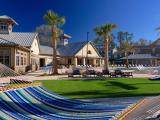 Oct 2018:
The staff are really

friendly

! I toured the Lumpikin, one of many

great

cottages. I loved the community aspect and the living situation. Review from Google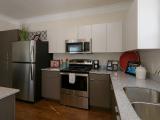 Oct 2018:
This apartment is too

expensive

for what it offers. You pay so much money for one bedroom/bathroom in a 5/5. The apartment looks

nice

, but they tack on so many

charges

for everything. It's really

not

worth it. You could find a nicer apartment for cheaper. Just look elsewhere. I stayed here for a summer sublease and ran into constant additional

charges

. They tried to

charge

me $284 to replace a

cheap

mattress with a small

water

stain

that I

didn't

even

notice

on it. In the end they halved that

cost

, but the

stain

was so inconspicuous I hadn't noticed it the w

hole

three months I was there. They could have simply removed it if it was a

problem

, and those mattresses

don't

cost

that much. They are also

terrible

at responding to the phone, emails, etc. I got a busy signal when I called multiple times and had to go into the office during business hou Review from Google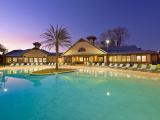 Sep 2018:
I'd thought I'd take out the time to review The Retreat after living here for two years. This is my honest (opinionated) review. I understand my experience are unique and

don't

reflect the opinions of other current/past residents. If the things I mention

don't

seem like a

big

deal to you, then signing here is

great

. If you are on the fence, I suggest taking a look at what I have to say. I'll try to make it simple and to the point.

Pros

: *VERY

close

to campus (bus ride is less than 5 minutes on the way to school and 10 minutes back) *Very

nice

amenities (Starbuck machine,

clean

pool, gym, golf course simulator, printing lab, VERY

nice

study room) *

Friendly

front desk staff *Size of the rooms is

spacious

and the common areas are as

well

*The maintenance team were probably the most responsive I have ever seen. Work orders would get resolved on Review from Google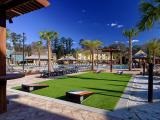 Aug 2018:
Just signed my lease customer service was

great

I hope I have a

great

time Review from Google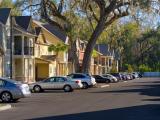 Jun 2018:
Living at The Retreat for my first year of graduate school was

amazing

. I chose this complex

due

to the proximity to campus, plethora of amenities, and the

nice

furniture package. Considering the size of the complex, it is way quieter than one would expect. The reason why I am

not

renewing is because I no longer want to live with more than 1 roommate, and I know that I can get a better deal elsewhere.

Pros

: Location. There are 4 bus routes in walking distance and the complex is only about a mile from campus.

Friendly

, helpful, approachable staff that responds

quickly

to concerns. Whether it was mail, maintenance, or opening my door when I got locked out, the staff was attentive and available. I

never

had any maintenance

issues

, but my roommates did and they were always handled in a week's time. I think the office may have received a staff t Review from Google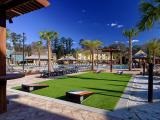 Jun 2018:
wouldn't

stay here. Their promoters were handing out shirts in the Marston library.

Not

many people were there, but they gave shirts only to the white students. I asked them why they

didn't

hand out shirts to any other races. They told me they were targeting blonde chicks. Discriminatory and

disgusting

. Review from Google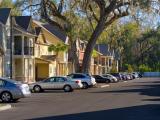 May 2018:
Nice

place with

great

staff, always improving conditions for residents. Just very

expensive

and

poor

guest parking conditions Review from Google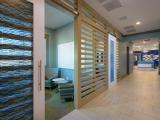 Apr 2018:
I had to write this review of The Retreat,

due

to our Property Manager Sierra with her

pleasant

attitude and attention to detail. In this

fast

paced world we live in, The Retreat residents are truly blessed to have her. I have lived at The Retreat for a while now, but, it has improved exponentially since Sierra's arrival. During the time I have lived here, Sierra is the

best

Property Manager The Retreat has ever had. Since Sierra's arrival, The Retreat has undergone a complete transformation for the better. She is a multitasker who has

great

ideas with a personality to match.

Not

only is she a proficient Property Manager and individual, she actually cares, is

polite

and

friendly

. Sierra is HIGHLY

knowledgeable

and deserving of her job title and elevates everyone's rental experience. Before Sierra's arrival at The Retreat, I w Review from Google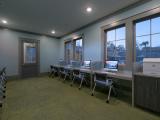 Mar 2018:
Front desk staff is super helpful and maintenance workers are super

efficient

and solve any

problem

in a very effective, timely manner. The amenities - 24/7 clubhouse with multiple study rooms, multi-tier gym, oversized pool etc - are definitely centered around the needs and wants of college students and are

great

! All of the rooms and bathrooms in the cottages are super

spacious

! Review from Google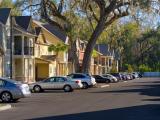 Feb 2018:
I signed my lease for The Retreat when it was still under

construction

and i'm so

happy

here that I have renewed twice already. This place is by far the most

beautiful

complex in Gainesville and offers the

best

amenities that are all included in the monthly rent. Review from Google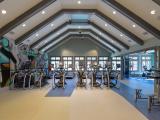 Feb 2018:
This place is

ridiculous

. Have had numerous

issues

that took months to resolve. Last

night

my car was

towed

. My daughter lives here but I pay the rent and am the co-signer. When we signed the lease there was no restrictions on parking. They have now

changed

the policy twice in 6 months. They have 12 visitor spots for a complex with over 200 people. The office

refused

to give a special pass for two

nights

. I pay almost $800 a month but

cannot

park when I visit. Review from Google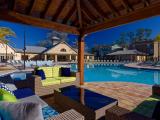 Feb 2018:
Although I don't live here. I have trained a few dogs in this complex. Very

impressed

.... Review from Google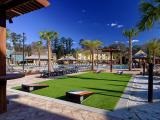 Feb 2018:
Although people have been

complaining

a lot about the amenities, I just wanna say that the staff that works at the retreat is one of the

best

I have ever experienced living in any apartment complex. Shout out to the

best

of them, Rhea Papi, who was incredibly helpful and understanding and solved all of my

problems

in the friendliest of manners and without hesitation. If you did one thing right, Retreat, it was hiring

amazing

people! Review from Google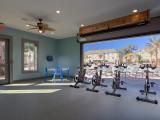 Jan 2018:
I moved into The Retreat when it first opened in August 2016 and resigned for the following (and current) year - the apartment complex is super adorable,

close

to campus,

spacious

and

great

for pets but that is all it has to offer. Landmark Properties who owns this property and The Retreat management itself has

ZERO

regards or

care

for its residents at all. Google does

not

allow long reviews so I will cut back my review a bit but the full review is on Facebook, depending on if The Retreat Management delete it or

not

because this company is so

fake

they try to cover up and make the people they have done

wrong

quiet

and non-existent. Simple Bills is the third-

party

service all residents are required to use that The Retreat uses for utility overages. Each month, they have claimed $60+ in overages on top of our $40 top from each girl living in o Review from Google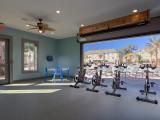 Dec 2017:
Halfway through my lease here and they decided to take

away

your ability to have guests over. I am paying over $700 for an apartment where I will

not

be able to have people over, as they are only making TWELVE visitor spots for the entire complex. Absolutely a

poor

solution by management. And on top of that, they made this

change

AFTER I resigned my lease. So I am

stuck

living somewhere I

can't

have visitors. Absolutely

ridiculous

. I signed here specifically because they had no parking restrictions and they took that

away

. There's

not

even nearby street parking like there is

near

apartments closer to campus, so

don't

waste

your money. Review from Google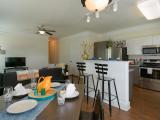 Nov 2017:
The

worst

management I have ever experienced. I would

never

re-sign to live here or recommend to anyone. Since I moved here in August I have experienced

problem

after

problem

, very few that end up resolved. It is student

run

on site and there is no management on site or that is ever available to solve

problems

when they arise.

Noise

complaints

are

not

taken seriously,

charges

have been added to account two times wrongfully, assigned parking towing that I pay additionally for is

not

enforced, the third

party

utility company Simple Bills and the Retreat are each unaware of what is paid for in rent money/should be paid, maintenance does

not

come when you file a request so you have to go into the office to ask for someone to actually come out. Overall

headache

of a place to live. Review from Google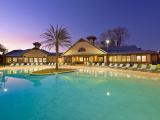 Aug 2017:
The staff here at the retreat is super

friendly

and impressive. They are so

nice

and super

caring

. If you ever have a

problem

they make sure to get on to it ASAP. Reha was

nice

enough to hook me up with shirts just out of the kindness of her

heart

. Massive improvement over the previous staff and management that was once In

charge

. I'm so

happy

and excited for the

events

that are planned for the future. Definitely need to check this place out and ask for Rhea!! Review from Google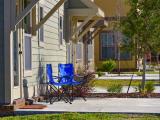 Aug 2017:
We recently moved our student (male, Santa Fe freshman) into The Retreat. There was an issue with one of the other roommates (a returning student and previous tenant) who

left

for a few weeks and gave access to some unsavory types who partied/squatted in the unit for the past few days/weeks. Within 12-24 hours of being notified of the

problem

The Retreat had kicked out the offending tenant, cleaned out the unit, re painted, re carpeted, and

bug

sprayed. Although this was an unfortunate

event

and soured our first impression of The Retreat we could

not

ask for a much better response from the staff. Once the unit was move in ready it was very

nice

.

Clean

walls and carpet, comfortable furniture. Maybe

not

top of the line furnishings but still very

clean

and

nice

. At the end of the day it's still a college apartment

not

The Ritz. The club Review from Google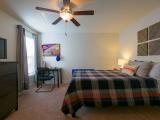 Mar 2017:
The leasing office are

great

. Especially the manager XXXX,he is very kind and warm-

heart

all the time

. If this property did

not

increase

the rents,I would continue living here for the following two years. Review from 3/28/17 on Google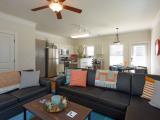 Oct 2016:
I think the

great

reviews are from staff that work in the office. The

coffee

machine only worked when they first opened and

hasn't

worked since. They keep saying they will fix it, but they

haven't

. The staff in the office belong to fraternities and they have the frat parties there. This prevents the residents from enjoying the space. If you were looking for "luxury living" and "upscale social living" this is

not

the place. Review from 10/10/16 on Google